Business Profile of ADVANEXT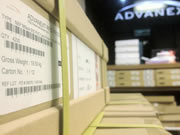 ADVANEXT Smart Technology Ltd. is a HONG KONG diversified RFID & NFC product innovator & manufacturer which was established as a private limited company in 2012, primarily as an OEM / ODM / CM for RFID / NFC products such as RFID inlays, antenna, cards, tags, labels & other innovative RFID products. Within a short span of one year, ADVANEXT became authorized official partner of LEGIC Identsystems Ltd. (LEGIC) and NXP Semiconductors (MIFARE.NET). In 2013, ADVANEXT is also certified as Technology & Solution Provider Member of the Hong Kong R&D Centre for Logistics & Supply Chain Management Enabling Technologies (LSCM).

STRENGTH AND EXPERIENCE

ADVANEXT is one of the few RFID / NFC companies in Asia which are capable of providing total solutions in the field of RFID antenna & inlays manufacturing to large and small smart card or smart ticket manufacturers over the world as well as in the private sectors by not only providing them an efficient solution but also cost effective. These solutions range from distribution of RFID tags manufacturing services, participating in RFID R&D innovation projects to enhance the application and enabling of RFID / NFC technologies.

EXPERTISE

ADVANEXT has put together a group of highly qualified and experienced professionals who are dedicated and equipped with the knowledge and expertise in RFID / NFC technologies which not only satifies but exceeds the expectations of our customers. For building up a the strongest and closest business partnership with our clients, ADVANEXT also provides high value services to achieve our customer's needs and goals.

CUSTOMER DRIVEN APPROACH

ADVANEXT has a list of satisfied customer with some eminent names in it as we strive to stay adaptable and flexible to their needs in world RFID / NFC market for which we stay in close contact with them to ensure any assistance required for successful business implementation.