NFC Products by ADVANEXT
ADVANEXT manufactures & supplies full range of specialty NFC products upon customers' needs.
What is NFC Forum?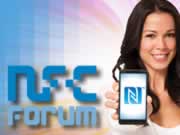 Introduction of NFC Forum

The Near Field Communication (NFC) Forum has authorized 4 types of tags to be serviceable with NFC devices. If a NFC tag complies to the NFC Forum specifications, it should be either in NFC Forum Type1, Type 2, Type 3 or Type 4.
A YouTube Video explains NFC (produced by Simpleshow)